If there's one thing TaylorMade dominates at it's creating a major launch buzz with new equipment. And the TaylorMade M3 Driver launch with the Twist Face design was no different.
Here's our video of the TaylorMade booth entrance at the 2018 PGA Buying Show this past January.
We'll get more into the TaylorMade Twist Face soon. But first…
Table of Content
Things to Consider Before Buying a TaylorMade M3 Driver
Prior to purchasing a new driver, it is crucial that you choose the right club for you. And you need to be honest about your swing and your abilities at the time of purchase. Drivers fall into one of three different categories:
Game Improvement
Max Game Improvement
Better Player
Game improvement Drivers
Game improvement drivers are the most common drivers found on the market. With their versatility amongst all experience levels, they come equipped with the proper technology to offer a good amount of forgiveness while still allowing some workability.
Max Game Improvement Drivers
Max Game Improvement drivers are created for beginners and high handicap golfers that are lacking a certain level of fundamental skills.  The clubs have technology geared towards having a high M.O.I. and low center of gravity. If you have difficulty driving the ball straight, a max game improvement driver can help correct swing inconsistencies that cause distance and accuracy issues.  
Better Player Drivers
Better Player drivers are created for the seasoned golfer that is looking for more control, or manipulation, of the shots. These drivers are not going to hide glaring swing flaws in the same manner as the other types of drivers. Low handicappers to professional golfers tend to use better player drivers at the greatest rate of frequency.
Things to know before you buy…
Before making any substantial purchases always be sure to consider the different variables that come along with any buying decision.  
Budget:

The price you are willing to spend on your driver is an important factor in the buying decision process. A new driver can vary from a couple hundred on up depending upon the chosen specifications. Having a budget beforehand will help the selection process.

Trade-in value:

The trade-in value of your current clubs will vary significantly based upon your chosen selling method.  Selling private party on a site such as Craigslist is likely to yield substantially more money than trading it into your local golf shop or sporting goods store.  

Getting Fitted:

Drivers are customizable nowadays and it's best to have a fitting session to maximize performance.  Although fitting fees may be waived with purchase, the possibility of additional cost of up to several hundred dollars can happen with upcharges if specialty grips and shafts are selected.

Warranty:

Warranties may also differ depending upon the given manufacturer. Also, consider the track record of the company you choose to buy from.
The TaylorMade M Series
In addition to the TaylorMade M3 driver the company has an additional 3 drivers in the M Series. Depending on your preference for head size and forgiveness needs you may want to look at the other options as well.

M4 D-Type – Built to help fight the slice. This max game improvement club is TaylorMade's most forgiving driver in the M series.


M4 –

TaylorMade's game improvement driver

claims straighter & longer shots due to Twist Face technology, but lacks a weight adjustment system.


Our TaylorMade M3 Driver Review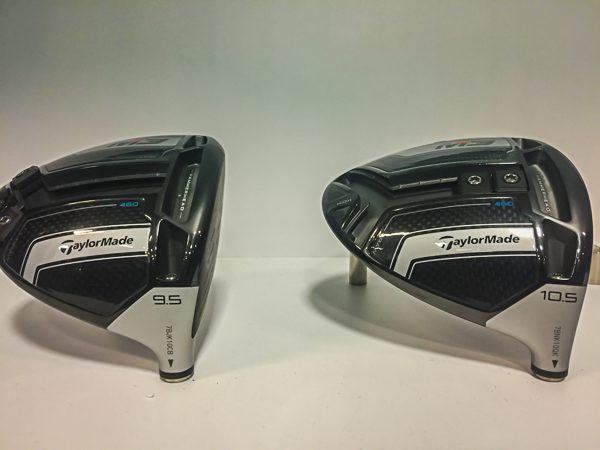 The TaylorMade M3 driver has been released with the initial claim of being their "Most Technologically Advanced Driver Ever," a bold statement coming from a company with such a long and plentiful past. The driver is said to help minimize your mistakes allowing you to go further and straighter down the fairway.
How, you might ask?
The hype with this driver is the TaylorMade Twist Face technology. TaylorMade Golf claims this technology takes the bulge and roll/gear effect technology to the next level.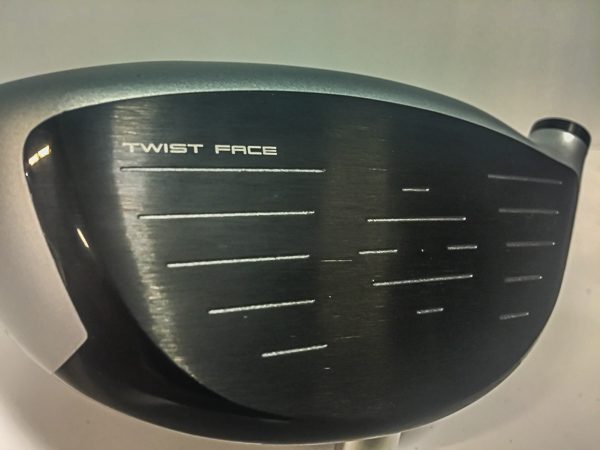 But wait, there's more…
TaylorMade finally added a slot to their flagship line of drivers called the Hammerhead. It's located behind the face on the sole. And this slot increases ball speed.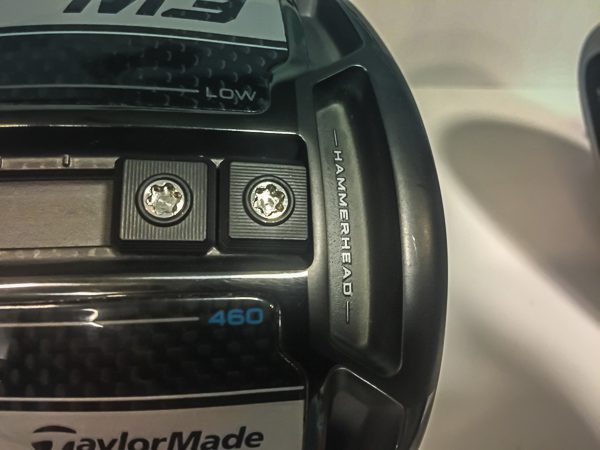 But wait, there's still more!
The T-Track weighting system from the M1 2017 driver has been updated from this…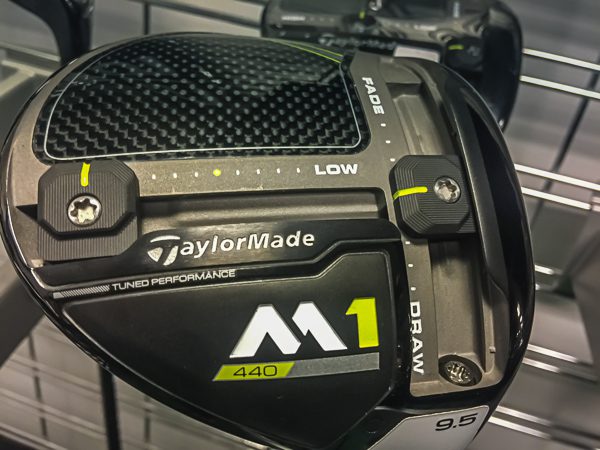 To what TaylorMade calls the Y-Track. which allows manipulation of the launch angle and draw bias.
Pros and Cons of the TaylorMade M3 Driver
Pros
Twist Face should help with off-center shots, specifically in low heel and high toe

Increased ball speed from the Hammerhead Slot could equal more distance

One of the top drivers regarding adjustability with the Y-Track
Cons
Some golfers view adjustments as confusing

Multi-colored crown could be considered a distraction

At $499 it's expensive
Features and Benefits
Now, let's take a look at a few crucial areas to find out where this driver truly shines.
Design
The TaylorMade M3 Driver takes pride in valuing its predecessors while carving out a new path of its own.
First, from address, the TaylorMade M3 has a slimmer, more modern look when compared to last years M1 driver.
Next, the 2018 version has a silver section instead of white.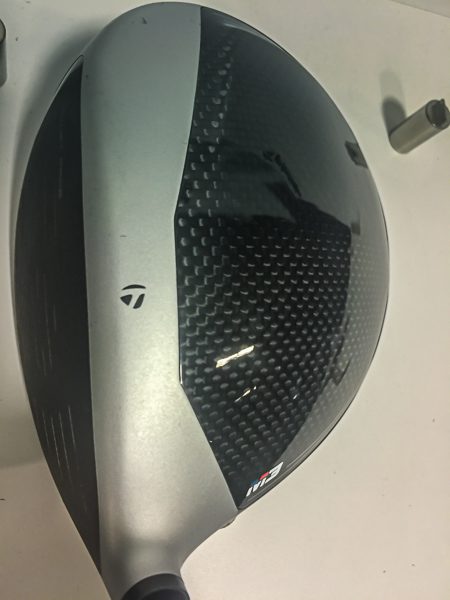 Last, the panels built within the crown of the club are also 25 percent thinner and lighter than in previous years.
Also, as noted, the weighting system has been updated so two 11 gram weights can seamlessly move together or independently.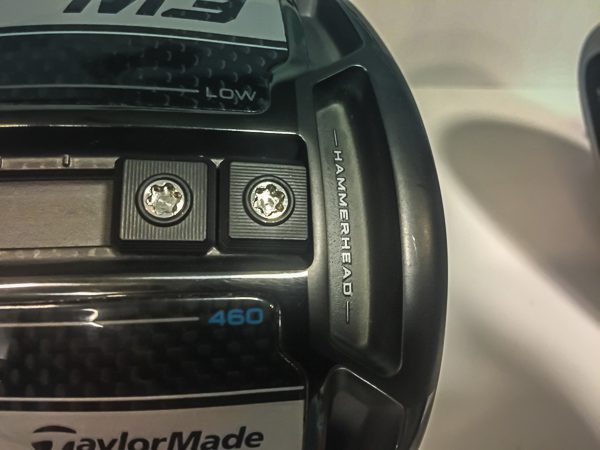 Technology
TaylorMade created the M3 Driver with 3 major technology selling points:
The Twist Face
Hammerhead Slot
Y-Track Weighting System
Twist Face

Bulge and roll is not a new concept in golf. And the gear effect helps your off-center hits, which helps you stay in the fairway.
Well, TaylorMade is claiming to improve on the bulge & roll technology after years of studying where golfers tend to miss:
They call this improvement Twist Face. And what Twist Face does is increase the gear effect by altering the curvature of the face in the two areas mentioned above.
All-in-all, the newly designed twisted face aerodynamically helps the ball fly straighter.
Hammerhead Slot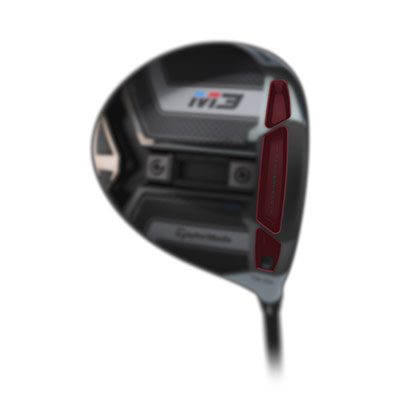 Source: TaylorMade
The Hammerhead Slot allows TaylorMade to make the face 20% thinner. In return, a golfer should see an increase in ball speed, along with a higher spring-like effect known as C.O.R.
Y-Track Weighting System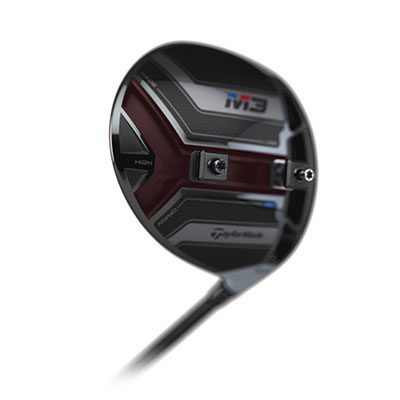 Source: TaylorMade
The Y-Track allows the club to be adjusted for optimal trajectory, maximum forgiveness, or speed. Two 11 gram adjustable weights can seamlessly by positioned anywhere within the Y-Track giving numerous adjustment options for personalized ball flight for draws or fades both high and low.
Performance
The TaylorMade M3 driver is having a pretty successful year.
Here are a couple of reasons why…
Loft
TaylorMade Golf offers the M3 in the following lofts:
Additionally, the driver has the traditional adjustable hosel sleeve we've come to know, which allows golfers to change the loft +/- 2 degrees.
Adjustability
If you take a look at the customization settings on the club, you will soon realize that there are 13,000 adjustable settings. That's no typo. The different options and variability will allow you to dial in the settings to benefit your swing.
For instance, if you are a low-ball hitter but need a higher launch for the day, you can adjust the weights to the 'Forgiveness' setting at the back of the head to lower the center of gravity. Then reset the hosel for an additional 2 degrees of loft. Boom. You should hit a higher shot trajectory.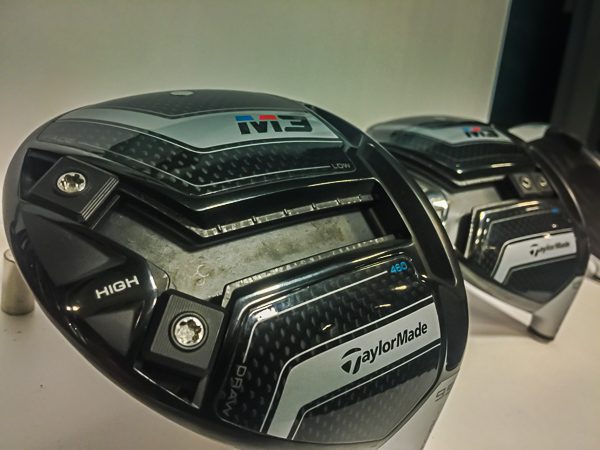 Sound
The sound of the M3 is louder than some of its contemporaries and predecessors while having a slightly metallic echo with each swing.   
Shaft Options
There are several stock shaft options readily available for the TaylorMade M3 Driver ranging from A (Lite) to X flex.  
Mitsubishi Tensei White 70
Mitsubishi Tensei Blue 60
Mitsubishi Tensei Red 50
The numbers referenced give an approximate weight for each of the models.  A lower weight is correlated to a higher kick point, and the inverse is true as the shafts get heavier.  
The Mitsubishi Tensei White has a firm tip and a weight of 79G, with a low spin rating and a torque measurement of 4.0. It is only available in the X Flex.

The Mitsubishi Tensei Blue 60 has a mid-tip stiffness and a spin rating of mid to mid-low. It comes in three different weights:
70 gram – X Flex

67 gram – Stiff Flex

64 gram – Regular Flex  

The Mitsubishi Tensei Red 50 has a soft tip with a spin rating of mid.  It is offered in three different weights:
59.5 gram –  Stiff Flex

57 gram – Regular Flex

54 gram – A Flex  
Stock shafts do not carry the same negative views as a decade ago. However, they do not always fit the buyer. While the different stock options may fit a large percentage of golfers, it's best to explore the many other shaft choices companies offer. But remember, you should seek out an experienced fitter and book a session.
There are aftermarket shafts available for the M3. Currently, TaylorMade has:
Additional 16 no charge shafts from 6 companies

2 Fujikura shafts with a $100 upcharge

19 shafts from companies like Graphite Design & UST at $200 upcharge

2 Oban shafts with a $400 upcharge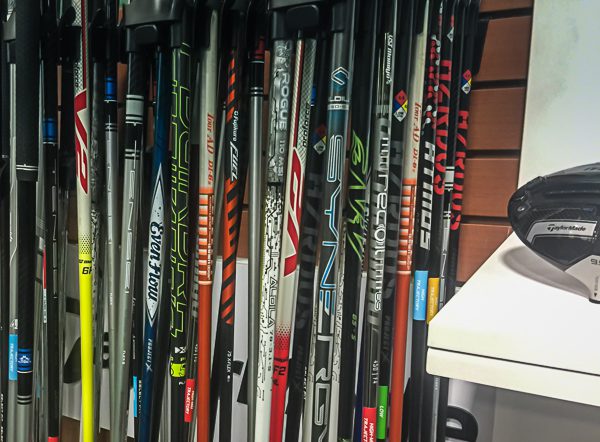 Price
The TaylorMade M3 driver currently retails for $499 brand new. Compared to other drivers on the market, this price is on the high end of acceptable.
What Other Golfers Think Of 2018 TaylorMade M3 Driver
After diving deeper into consumer research and reviews, I noticed an overwhelmingly positive trend in satisfaction for the TaylorMade M3 driver. Most products have some degree of variability when it comes to consumer feedback, but in the case of the TaylorMade m3, the driver had nearly unanimously positive reviews.  
Users of the product went so far as to say that this was the best driver they have ever used.  The vast majority concurred with the claims that the product was providing faster speeds and straighter distances in their swings. People seemed to enjoy the innovative design of the club as well.  Take a look at what people are saying about these TaylorMade drivers.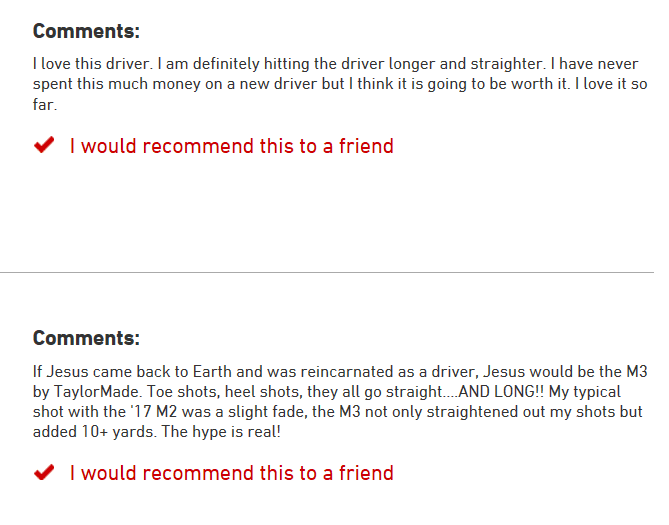 Alternatives
While one player may find this driver delivers in every area necessary, others may be interested in some potential alternatives to check out. I've highlighted a few comparable clubs below.
Because who doesn't like options?
Better Player: Callaway Rogue Sub Zero
The Callaway Rogue Sub Zero probably matches up closer to the TaylorMade M3 440. But both drivers come in at the same pricing point of $499. The Sub Zero is geared towards faster swinging individuals and producing more spin on their swings.  Like the M3 it has interchangeable customized weight settings and a speed step for improved in-swing aerodynamics.
The Rogue is known for better club speed and lowers spin numbers. If you're looking for a different alternative to the M3, with lower spin rates, the Rogue Sub Zero may align with what you are searching for.
Game Improvement: Ping G400
The Ping G400 comes in a 20% lower pricing point than the M3 at a reasonable price of $400.  The G400 targets all different levels of handicaps and focuses on hitting the ball higher and straighter.  
While the G400 does not have the same adjustability, it's still one of the most popular drivers of 2018. The G400 is definitely worth checking out if you're in the market for a new driver. If you're on a budget or don't want to deal with adjustments, this driver may be better suited for you.
Mizuno GT 180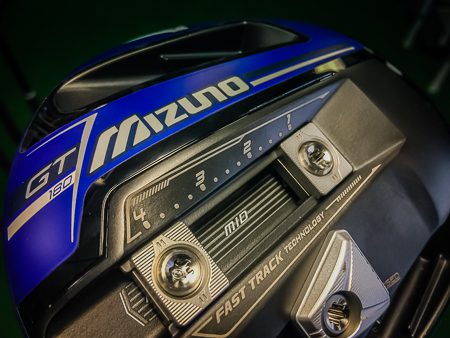 If the TaylorMade M3 driver could have an evil twin nemesis, the Mizuno GT 180 would be it. This Mizuno driver rivals TaylorMade's adjustment efforts with its Fast Track weighting system and Quick Switch Adaptor. These two drivers would be fun to do a head-to-head scenario with one day to see who owns the 'Utlimate Fine Tuning' title.
Click here for our review to learn more.
Comparing at a Glance
Rogue Sub Zero
Price: $499

Faster swings, longer distance

Customizable settings

Made for low-handicap golfers
Ping G400
Price: $400

Extremely popular

Hit the ball higher, straighter

20% cheaper than M3
Mizuno GT180
Price: $499

Ultimate Fine Tuning driver

The driver can grow with golfer as changes are made
Conclusion
The TaylorMade M3 driver seems to solve the problems that plague most golfers by providing drives that go further and straighter.
With its new engineered Twist Face design, it provides a curved face that will reduce spin on typical off-center hits in the low heel and high toe.
The Hammerhead slot allows for an increase in speed, which should result in additional yardage.
The Ultimate Fine Tuning nod is possible due to the Y-Track and hosel sleeve.
And TaylorMade offers one of the best aftermarket shaft selections with 19 no charge options available.
How Does the TaylorMade M3 Rate?
Design – 7
Definitely an improvement from last years M Series, the M3 still looks distracting from address with the Silver across the edge of the face on the crown.
Technology – 9
Taylormade did their homework studying golfers mishits and worked to improve on the bulge & roll/gear effect system that's been in use for decades. Combined with the Hammerhead and Y-Track it's understandable why TaylorMade claimed this to be the Most Technologically Advanced Driver Ever.
Performance – 8
There seems to be no argument that the technology TaylorMade incorporated is working to hit straighter and longer shots.
Shaft Options – 10
With a shaft offering that needs the Excel VLookup function, TaylorMade leaves no chance for excuses by golfers to say they didn't buy because 'their' shaft wasn't available!
Price – 6
A $500 price point is too expensive. Just wait a year and it will be much less!
Reviews – 9
It has good social proof.
This driver is worth a look.
User Ratings (

0

Votes)