So I came across this animation infographic revolving around a natural golf swing. There is a lot of good swinging tips in this design!
It's probably the neatest thing I've seen today.
Swinging Tips & Advice
Oh, and it's also got solid swinging tips advice and information that goes with our golf swing sequence article.
Here's what it covers…
5 parts of the Golf Swing
Swing Physics
Swing Duration
Average Swing Speed
Golf Psychology
3 Most Widely Used Golf Grips
Different Flight Patterns of a Golf Ball
Lumen Interactive created this data-rich design. It seems like they have covered the major points of how to hit a golf ball very well.
My Thoughts on the Lumen Swinging Tips Infographic
Personally, I like the graphic design because it gathers and sums up so much information and puts it into one image. The animation draws my attention in too…
First, particularly like the speedometer gauges on the right.
Next, I had no clue that it takes an average of 3 minutes to hit a golf ball. I guess I play speed golf.
Finally, I'd never heard the comparison of the similarities of a golf swing to a trebuchet catapult.
Conclusion
If you don't have the time our patients to read articles like these… golf swing basics or our swing plane breakdown then this swinging tips image is for you. Therefore, you should check it out!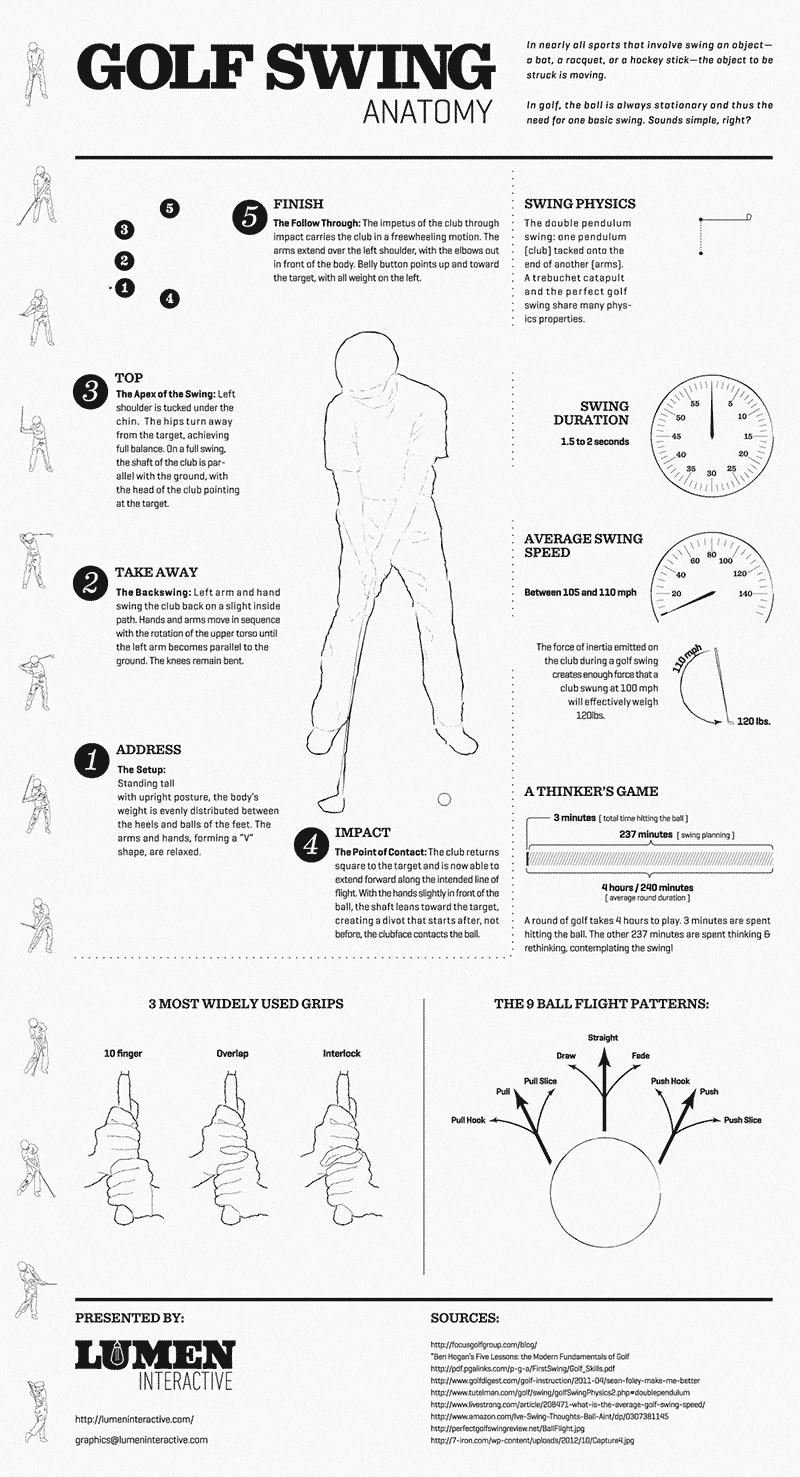 Transcribed
GOLD SWING ANATOMY

In nearly all sports that involve swing an object – a bat, a racket, or a hockey stick – the object to be struck is moving.

In golf, the ball is always stationary and thus the need for one basic swing. Sounds simple, right?

1. ADDRESS

The Setup: Standing tall with upright posture, the body's weight is evenly distributed between the heels and balls of the feet. The arms and hands, forming a "V" shape, are relaxed.

2. TAKE AWAY

The Backswing: Left arm and hand swing the club back on a slight inside path. Hands and arms move in sequence with the rotation of the upper torso until the left arm become parallel to the ground. The knees remain bent.

3. TOP

The Apex of the Swing: Left shoulder is tucked under the chin. The hips turn away from the target, achieving full balance. One a full swing, the shaft of the club is parallel with the grounds, with the head of the club pointing at the target.

4. IMPACT

The Point of Contact: The club returns square to the target and is now able to extent forward along the intended line of flight. With the hands slight in front of the ball, the shaft leans toward the target, creating a divot that starts after, not before, the clubface contacts the ball.

5. FINISH

The Follow Through: The impetus of the club through impact carries the club in a freewheeling motion. The arms extend over the left shoulder, with the elbows out in front of the body. Belly button points up and toward the target, with all weight on the left.

SWING PHYSICS

The double pendulum swing: one pendulum [club]tacked onto the end of another [arms]. A trebuchet catapult and the perfect golf swing share many physics properties.

SWING DURATION

1.5-2 seconds

AVERAGE SWING SPEED

Between 105-110mph

The force on inertia emitted on the club during a golf swing created enough force that a club swung at 100mph will effectively weigh 120lbs.

A THINKER'S GAME

A round of golf takes 4 hours to play. 3 minutes are spent hitting the ball. The other 237 minutes are spent thinking and rethinking, contemplating the swing.

3 MOST WIDELY USED GRIPS

10 finger

Overlap

Interlock

THE 9 BALL FLIGHT PATTERNS

Pull Hook

Pull

Slice

Draw

Straight

Fade

Push Hook

Push

Push Slice

PRESENTED BY:
LUMEN INTERACTIVE