It was only a matter of time until golf equipment jumped into the Smart App craze much like the tracking technology companies Fitbit and MyFitnessPal. I remember I used to have a chicken scratch system applied to my scorecard to let me know how many fairways I hit during a round. After that, I just kind of had a feeling of how long I hit the ball and where my misses went. Looking at the Cobra F8 Driver and the Connect smart technology, well, that's the kind of data that can help improve tee shots immediately when combined MyFly 8 With Smart Pad. Let's just say, I could get into 'Embracing a Smart Life' off the tee.
Combined with the data tracking technology, Cobra has managed to produce their thinnest, hottest face ever. That, coupled with a litany of other technological advancements make the Cobra F8 Driver a particularly forgiving driver, that can add some serious distance to your drives. If you're wondering how to hit a golf ball farther and truer, read on for our review.
Table of Content
Things to Consider Before Buying a Game Improvement Driver
You may find that the Cobra F8 Driver is an ideal driver for your game, but before you run out and purchase one, there are a few things you'll want to know about drivers in general. These clubs fall into three different categories:
Game Improvement
Max Game Improvement
Better Player
Game Improvement Drivers
Most of the drivers you'll come across, including the Cobra F8 Driver are game improvement drivers. They're designed to be a bit more forgiving on off-center shots, and some can even help correct slight issues with your sling, like a baby hook or slice, for example.
Max Game Improvement Drivers
Max game improvement drivers are designed to be the most forgiving, and they tend to have a bevy of technological advancements that can help you gloss over more serious issues with your swing. If you're spending more time chasing your balls than you are admiring a towering drive straight down the fairway, a max game-improvement driver may be a good choice for you.
Better Player Drivers
Finally, you have the better player drivers. These drivers are designed for advanced golfers who are interested in shaping the ball around the course, and less interested in the forgiveness that comes with the other two drivers. These clubs are typically reserved for the upper echelon talents of the game.
Things to know before you buy…
Now that you're armed with some info on the different driver types, there are a few other things to consider before deciding on a driver, such as:
New or Used – Usually, your budget will help dictate whether or not you're in the market for a new or used club. Most of the higher end drivers on the market run upwards of $400, which is a pretty penny for a single club. Meanwhile, a gently used version of that same club may go for about $200. Depending on your budget, you'll have to decide between a new or used club.
Trade-In – What's the story with your current driver? Some drivers bring in $300 or more on the secondary market. If you've got a high-end driver in your bag that you're willing to part with, trading in or selling that club could finance a large portion of your new club.
Warranty – Today's clubs are manufactured better and stronger than ever. But, that doesn't mean that clubs don't break or fail anymore. Take a closer look at the warranty for all the clubs you're interested in. You may find that it's worth buying your next driver for a company that stands behind their product for several years.
Fit – Getting fit for your driver is a critical consideration, and it shouldn't be overlooked. Even the best driver on the market will fall flat if it isn't properly fitted for you and your game. Make sure to purchase your club from an experienced club fitter that you trust.
The Cobra King F8 Line of Drivers
The Cobra F8 Driver is the latest and greatest driver in a long line of high-end clubs from Cobra. There are three different models available.

Source: Cobra
King F8 – The King F8 is the game improvement driver of the line. It's a forgiving driver designed to achieve the perfect blend of ball speed and forgiveness. This driver is ideal for the mid-to-low handicapper looking to improve their score.
King F8+ – The F8+ is a better player driver designed to bring a blend of speed and workability. This driver is ideal for the experienced golfer looking for a driver that allows them to work left to right and right to left when out on the course.
Cobra F8 Driver Tour Length – The Tour Length version of the King F8 is inspired by Rickie Fowler's tour driver, and it features a slightly shorter shaft and more adjustable weighting than the standard King F8. This driver is available only by custom order.
Our Cobra F8 Driver Review
Cobra is perhaps best known for their bold, bright club styles and their partnership with tour superstar Rickie Fowler. But, Cobra has really been stepping up the R&D department in recent years, and the Cobra F8 Driver is some of the fruit of that labor.
New Techniques
One of the Cobra F8 Driver's most major developments is its new CNC milled club face. Virtually all club faces are welded to the body of the driver and then finished by hand to provide a smooth finish with no evidence of the weld. This time-tested process has worked well. However, there will always be a measure of human error with this process, which Cobra has managed to correct with their new CNC milled face.
By milling the club face with a CNC router, Cobra has eliminated the human element from this aspect of production, and the result is the most tightly toleranced club face of all time. The face of the Cobra F8 Driver is thinner, lighter, and hotter than ever before.
The Dual Roll face of the club helps to make it one of Cobra's most forgiving drivers yet, and other technologies have made it easy to add significant distance to your drives with the Cobra F8 Driver.
Smart Technology
Cobra further upped the ante with innovation when they introduced their new Arccos smart grip, which relays data about your swing to a smartphone app of the same name, which provides meaningful data you can use to improve your game further.
Altogether, the Cobra F8 Driver from Cobra Golf leverages an impressive array of features to provide one of 2018's top golf clubs.
Pros
Adds distance to drives
Extremely forgiving
Arccos smart grip and smartphone app
Highly adjustable for a custom fit
Cons
Busy crown may be distracting for some golfers
Feels a bit sluggish through the air
Only a few shaft options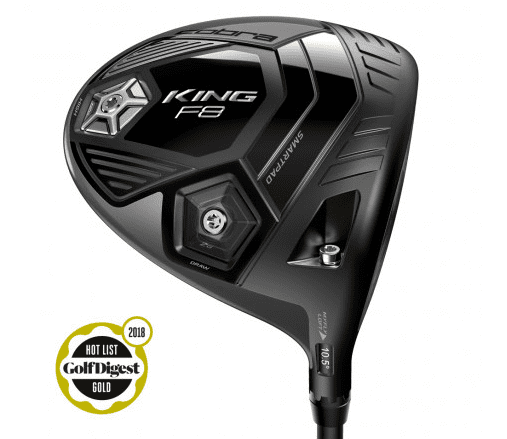 Source: Cobra
Design
The Cobra F8 Driver is a dramatic departure in terms of design for Cobra. Gone are the ultra-bright and flashy crowns of past Cobra drivers. The Cobra F8 Driver replaces those electric colors with a more subdued grey.
The Cobra F8 Driver still features the same bold look you'd expect from a Cobra driver, thanks in part to the aggressive styling of Cobra's 360 Aero technology, which helps to increase club speed by decreasing drag.
Source: Cobra
Cobra F8 Driver Technology
The Cobra F8 Driver is no slouch in the technology department, and this club is sure to delight gearheads everywhere with its level of customizations.
CNC Milled Face Inserts
We briefly touched on Cobra's new CNC milled face inserts. Hand milled faces are prone to small inconsistencies that can result in thicker or thinner sections of the clubface. By CNC milling the face of each club, Cobra can produce a face to the tightest tolerances ever. This eliminates differences from club to club and results in a hotter club with more consistency.
Through the process of CNC milling the face of the club, Cobra was also able to design a new bulge radius which compensates for gear effect to provide more accuracy on off-center shots.
Titanium Body & Forged Face
The TI-8-1-1 titanium body and forged face of the club help to save weight. This weight is then redistributed to make for a lower CG, resulting in increased launch and speed, which translates to more distance, even on off-center hits.
New E9 Technology = Maximized Sweet Spot
Cobra developed their new E9 technology to maximize the sweet spot of the club. After analyzing thousands of shots, Cobra's R&D department concluded that most players hit the ball in an ellipse pattern ranging from the low heel to the high toe.
But, most club companies design their sweet spot in a circular fashion around the center of the club. With E9 technology, the Cobra F8 Driver features a larger, oval-shaped sweet spot designed to meet the needs of more players.
Arccos App Gives Swing Data
Cobra is also one of the first club manufacturers to take advantage of smart technology. They've outfitted the grip with special sensors which relay data about each swing to a smartphone app. This allows you to track distance and accuracy. You can use this meaningful data to improve your swing.
The app can even use your data to recommend club adjustments based on your swing. Golfing has always been about learning and adapting, and this new technology makes it easier than ever to improve your game.
Cobra F8 Driver Dual Roll Technology
Rounding out this impressive technology suite is Cobra's patented Dual Roll technology, which makes use of different curvatures along the top and bottom of the face, instead of using the same curvature on both sides. This helps to optimize launch on spin, particularly on hits above or below center.

Performance
Performance wise, most players would consider the Cobra F8 Driver to be extremely fast, hot, and forgiving.
Distance
Most players who try the Cobra F8 Driver are pleased by their drives. Adding an extra 10-15 yards is not unheard of. Some golfers have been able to tack on even more yardage when using the F8.
Forgiveness
Those same players are quick to note how forgiving this Cobra driver is, and find that they're hitting more fairways than they have in the past with other clubs. This club promotes a slight draw bias and seems to help most golfers achieve the trajectory and the accuracy they're hoping to see.
Cobra F8 Driver Adjustability
Others are quick to note that the performance tweaks their able to make greatly improved their performance on the course. Cobra includes two adjustable CG zones as well as an impressive amount of loft adjustments.
The Cobra F8 Driver offers:
Adjustable back and heel weighting
Includes 2 gram and 12-gram weights
These can be positioned to your liking or removed entirely.
Myfly 8 with Smart Pad
The Myfly 8 with Smart Pad allows you to make on the fly performance adjustments to your launch point. You'll be able to choose between eight different loft settings from 9°-12°. This allows players to make in-game adjustments to get their launch point and spin profile exactly where they want it. The Arccos app will even make in-game suggestions for you based on your swing data.
If you like to tinker with different club settings they may be a good fit for you as well.
Source: Cobra
Cobra F8 Driver Shaft Options
Cobra's shaft options are a bit limited, surprisingly. Only three different shafts are offered stock with the King F8. Of course, there's plenty of aftermarket options available at an upcharge. While they may leave you wanting for choice, they did select three great shafts you can choose from for your driver.

Source: Cobra
The Tensei manages to provide impressive feel and stability considering the fact its light as a feather. This shaft is a good choice for players with a middle of the road swing speed who are looking to increase their trajectory while reducing spin. It's available in regular and light flex.

Source: Cobra
The Blue NV shaft from Aldila is a mid-weight shaft that's perfect for golfers looking for a middle of the road launch and spin. If your swing speed is a bit on the faster side, the Blue NV shaft may be a natural fit for you. The Blue NV shaft is available in two flex: regular and stiff.

Source: Cobra
The Green NV shaft from Aldila is a bit heavier than it's blue brother. This shaft is designed for golfers with high swing speed. You can expect increased control thanks to its higher bend profile. If you're looking for a low-launch, low-spin shaft, the Green NV is one you'll want to check out. This shaft is only available in stiff.
Cobra F8 Driver Price
The Cobra F8 Driver is priced on the lower end of the spectrum as far as professional quality clubs go. You'll be able to bring home your own for a retail price of $400. You may be able to snag a deal on the used market. Most Cobra F8 Driver's seem to be selling in the low $200 range.
What Other Golfers Think of the Cobra F8 Driver
I took a long, hard look at what other players had to say in their review of the Cobra F8 Driver. The findings were not too surprising. The overwhelming majority of golfers who've switched to the King F8 absolutely love their new driver. Here's an idea of what some other players have to say about this club.
Alternatives to the Cobra F8 Driver
The Cobra F8 Driver has made quite a splash, and it's quickly becoming a favorite of many golfers across the globe. You may find that the King F8 is a great fit for your game. Regardless, it's always good to try as many clubs as you can get your hands on. These three are popular alternatives to the F8.
Better Player: Titleist 917 D3
Titleist took a beating after the release of their 915 series driver. It was known for the sound and feedback of a heavy book dropped on the floor. With the 917, Titleist created a highly adaptable driver that provides the satisfying crack we've come to expect.
For a better player driver, the 917 D3 is on the forgiving side. Thanks in part to its SureFit CG weighting system the D3 allows you to choose between different weights located at the back of the sole. These weights can help promote a fade or a draw depending on how they're positioned inside the club head.
The 917 D3 makes a good choice for the low handicapper with confidence off the tee. Now that the Titleist 917 series price has dropped from $500 to $399.99 it is a solid club to pick up. This link is where you can pick up the Titleist 917 D3.
Game Improvement: Ping G400 Max
The Max is one of the most popular game improvement drivers in the Ping G400 series. It falls in between the max game-improvement G400 SFT and the original G400 regarding forgiveness, launch, and slice correction.
This club features some of the boldest styling and most advanced technology in the category. Ping manages to produce this driver at a very fair price which is identical to the retail price of the Cobra F8 Driver.
The G400 Max is ideal for the mid-handicapper who has a tendency to slice the ball and is looking for a forgiving driver that will add distance and flight correction to their swing. You can check it out on Ping's Website.
Max Game Improvement: TaylorMade M4 D-Type
The M4 D-Type is one of TaylorMade's most simple and un-fussy drivers. An ultra-thin face and crown save weight which is repositioned towards the back and bottom of the club. This helps increase launch angle while adding distance.
For golfers who suffer from a more profound slice, the M4 D-Type is a worthy driver. At an MSRP of around $450, it's slightly more expensive than the King F8.
Conclusion
Is your game at a stand-still? Could seriously benefit from some additional distance on your drives? Then the Cobra F8 Driver could be a good option for you to test.
The 2018 F8 model boasts an impressive array of cutting-edge technologies that work together to add distance and accuracy to your drives. These features coupled with the aggressive styling of the F8 may make this driver the perfect companion for those of us looking for a forgiving driver that has some serious pop out of the tee box.
How Does the 2018 Cobra F8 Driver Rate?
Design – 8
Overall, the design of this driver is safe. Past Cobra drivers color schemes came off as a distraction to more conservative golfers. Still, the crown is known to be a little busy.
Technology – 10
The ability to collect swing data alone makes this driver stand out compared to the rest of the golf industry. Cobra stepped up the game with this driver's tech!
Performance – 9
Anytime a driver is known for added distance and forgiveness it's going to turn some heads.
Shaft Options – 6
Not going to lie, this is where Cobra dropped the ball. In a world where custom fitting is king, shaft options must be plentiful.
Price – 9
At a $399 price point, this driver definitely gets a fist bump. With drivers like the Callaway Rogue and TaylorMade M3 charging $499 the Cobra F8 driver comes off as a great buy.
Reviews – 10
Solid, as expected from Cobra. This driver has a high likeability factor.
FYI…
If you liked this write up be sure to check out other equipment reviews from Howard's Golf!
Cobra has been trying to get back on top in the driver category since the Fly-Z. This driver appears to have what it takes to make a claim at the Best Driver of 2018. Definitely give this one a test!
This club is Howard's Golf Approved!
User Ratings (

1

Votes)