Tiger Woods is considering making a comeback at the Masters this week, a little over a year after a horrific car accident that left him with severe leg injuries. Tiger Woods arrived at Augusta National on Sunday to play a practice round and is currently still in the Master's field as a participant. And now fans are asking, Will Tiger Woods Play in the Masters 2022?
If Tiger Woods were to win the Masters this year, it would be one of the greatest comebacks in all sports. Tiger has said that his main goal is to just be able to walk again without pain, but it looks like he's going to give it a go at Augusta. It will be fascinating to see if and how Tiger Woods fares at the Masters this year.
So, Will Tiger Woods Play in the Masters 2022?
Tiger is one of the greatest golfers of all time. There's no doubt about that. He has won multiple majors, including the Masters, and was at the top of his game for many years.
But after the horrific car accident last year, many people wondered if Tiger would ever be able to play golf again. Tiger himself even said that he wasn't sure if he'd be able to make a comeback.
Related: You Suck at Golf – But Who Really Cares?
However, this past weekend, he was spotted landing in Georgia on his private jet, fueling rumors that he was gearing up for a return to golf. The Master's social media team even released a short video of Tiger walking and playing golf around Augusta.
No matter how you feel about Tiger Woods, you have to respect his determination. He's a guy that has come back from some serious injuries and setbacks, and he always seems to find a way to compete at the highest level. If he plays, this week is a demanding one for him. The Augusta National is a tough course, and the walk can be challenging, and Tiger will exhaust every effort to play…
Including a shoe swap seen yesterday.
Tiger Swaps to the FJ Premiere Series Shoe
Tiger Woods wearing FootJoy golf shoes while turning up at Augusta National the Sunday before Masters week has set tongues wagging. It is speculated that the move was prompted by a specific need due to the injuries Woods sustained from his car accident last year.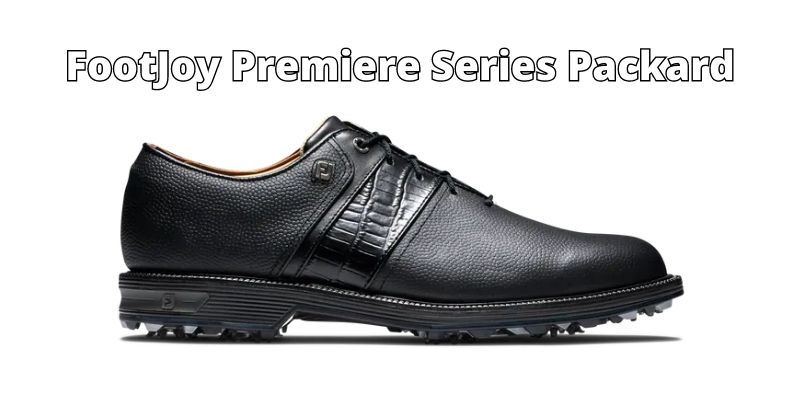 The FootJoy Premiere Series golf shoes are a modern take on old-school designs, combining modern technology and performance with classic style. The shoes are available in three different styles: the Tarlow, the Packard, and the Flint. The shoes are well-constructed and look very high quality. They are also comfortable and provide good traction and stability while playing. That's probably why Tiger likes these shoes.
Woods had gone outside of equipment norm before as he famously switched out his Scotty Cameron putter for a Ping one in 2003.
Some people think that this could signify that Woods feels more comfortable with his injuries and is starting to experiment with his equipment again. Others believe that he might be trying to get an edge on the competition by using a different kind of golf shoe. It will be interesting to see how this change affects Woods' game.
Conclusion
Tiger Woods is one of the greatest golfers of all time. There's no doubt about that. The man has won 14 majors, which is second only to Jack Nicklaus' 18. He's a legend in the sport.
Related: Golf Tournament Formats: Best Styles and How They Work
But, Woods has broken his silence after confirming on social media that his participation in golf's most iconic major will be a "game-time decision." This is huge news. If he decides to sit out the tournament, it would be a massive blow to both him and golf. But if he's able to play and compete at a high level, it would be one of the greatest comebacks in all sports.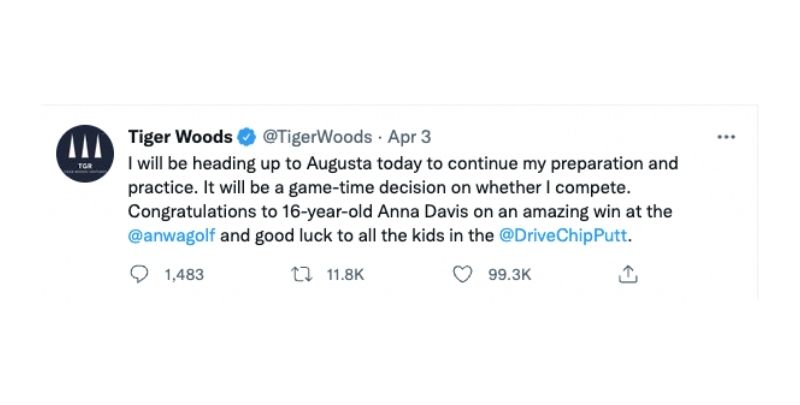 We'll have to wait and see what happens this week at the Masters. In the meantime, everyone will be keeping a close eye on Woods and his progress.
Related: Best Golf Terms: A Comprehensive Dictionary To Golf Slang