Golf Quotes are funny, clever, and humorous sayings about golf. Unfortunately, there aren't many of them! This lack of quotes may be due to the sport's difficulty level or because most people don't play golf seriously enough to create quotes for it…
Or maybe even they aren't as witty as our golf meme lords.
Regardless, here are some of the most famous golf quotes of all time.
Funny Golf Quotes
Golfers are a funny bunch. They take the game seriously, but they can also be light-hearted and humorous. If you're looking for a good laugh, check out some of these funny golf quotes. You'll recognize famous golfers, as well as some comedians who know a thing or two about the game. Whether you're on the green or off it, you're sure to enjoy these one-liners!
---
"I don't want to play golf. When I hit a ball, I want someone else to go chase it." – Roger Hornsby
Related: TaylorMade Stealth Plus Driver Review
"If you're caught on a golf course during a storm and are afraid of lightning, hold up a 1-iron. Not even God can hit a 1-iron." – Lee Trevino
"The only time my prayers are never answered is on the golf course." – Billy Graham
"The mind messes up more shots than the body. Always throw your clubs ahead of you. That way, you don't have to waste energy going back to pick them up." – Tommy Bolt
"One minute, you're bleeding. The next minute you're hemorrhaging. The next minute you're painting the Mona Lisa." – Mac O'Grady
"The harder you practice, the luckier you get." – Gary Player
"My swing is so bad I look like a caveman killing his lunch." – Lee Travino
"You can't play golf and not drink. It's the only sport they let you drink while you're playing." – Charles Barkley
"I'm the best; I just haven't played yet." – Muhammad Ali
"I have a tip that can take five shots off anyone's golf game. It's called an eraser." – Arnold Palmer
"Golf is the only game I know of that actually becomes harder the longer you play it." – Bobby Jones
"Hockey is a sport for white men. Basketball is a sport for black men. Golf is a sport for white men dressed like black pimps." – Tiger Woods
"Maybe I should write 'Tiger Who?' on my cap." – Vijay Singh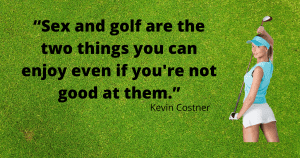 "Sex and golf are the two things you can enjoy even if you're not good at them." – Kevin Costner
Golf Quotes about Life
Like life, golf is unpredictable. You never know what you're going to get from one hole to the next. But that's what makes it so much fun. Whether you're a seasoned pro or a beginner, these golf quotes about life will remind you of the importance of enjoying the journey, no matter what happens. After all, if you can't laugh at yourself… well, you know the saying.
We hope you like these golf quotes about life!
---
"You won't learn a thing hanging out with drunks, dope addicts, and other asses. You got to be around winners. Some people never figure that out. I knew it by the time I was 12." – Doug Sanders
"Golf is a game whose aim is to hit a very small ball into an even smaller hole, with weapons singularly ill-designed for the purpose." – Winston Churchill
"Don't say I gotta do anything in life. There is nothing you gotta do. But I want to." – Moe Norman
"Golf is not a game of good shots, it's a game of bad shots." – Ben Hogan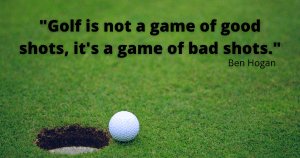 "Golf is a game not just of manners but of morals." – Art Spander
"Golf is deceptively simple and endlessly complicated; it satisfies the soul and frustrates the intellect. It is at the same time rewarding and maddening – and it is without a doubt the greatest game mankind has ever invented." – Arnold Palmer
"Achievements on the golf course are not what matters. Decency and honesty are what matters." – Tiger Woods
"As you walk down the fairway of life, you must smell the roses, for you only get to play one round." – Ben Hogan
"One of the most fascinating things about golf is how it reflects the cycle of life. No matter what you shoot – the next day you have to go back to the first tee and begin all over again and make yourself into something." – Peter Jacobsen
Golf Quotes for Ladies
I don't know about you, but I love some golf quotes. There's something about the wisdom of the game that just resonates with me. And I think there's a lot of wisdom to be found in golf for ladies, too. So today, we're going to take a look at some golf quotes specifically for women.
---
"Housework is for women who do not play golf." – Anonymous
"If everything was given to you, it wouldn't feel as good when you achieve it." – Annika Sorenstam
"When I play my best golf, I feel as if I'm in a fog, standing back watching the earth in orbit with a golf club in my hands." – Mickey Wright
"Golf is a game of misses, and the winners are those who have the best misses." – Kathy Whitworth
"Don't be in such a hurry. That little white ball isn't going to run away from you." – Patty Berg
"Golf is my boyfriend right now." – Karrie Webb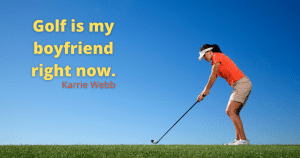 "I'm really trying to do everything I can to bring golf to people who have done it before, as well as just make golf fun and cool." – Paige Spiranac
Golf Quotes for Instagram
Golfers are some of the most passionate people regarding sports. They love everything about it, from the feeling of hitting a ball perfectly down the fairway to sinking a putt to win a tournament. As any golfer knows, there is plenty of wisdom and inspiration to be found in golf quotes. Here are some of our favorite golf quotes for Instagram, perfect for sharing with your followers on those days when you need a little motivation out on the course.
---
"If a lot of people gripped a knife and fork the way they do a golf club, they'd starve to death." – Sam Snead
"They call it golf because all the other four-letter words were taken" – Jimmy Powell
"Some guys get on the road; the first thing they do is look for the nearest golf course. I look for a gym." – Shannon Sharpe
"Play the ball as it lies, play the course as you find it, and if you cannot do either… Do what is fair." – Anonymous
"The object of golf is to beat someone. Make sure that someone is not yourself." – Bobby Jones
"I'm a golfaholic. And all the counseling in the world wouldn't help me." – Lee Trevino
"Practice puts brains in your muscles." – Sam Snead
Golf Retirement Quotes
Are you a golfer looking to retire? If so, you'll enjoy these golf retirement quotes from some of the game's greatest players. Whether you're quitting because you've hit your limit or just don't have the time anymore, it's always fun to look back on your career and reflect on what you've learned. Keep reading for wisdom from legends like Tiger Woods, Jack Nicklaus, and Arnold Palmer!
---
"When a man retires, his wife gets twice as much husband for half as much money." – Chi Chi Rodriguez
"Golf is played by twenty million mature American men whose wives think they are out having fun." – Jim Bishop
"I'm not retired. Golf is hard work!" – Anonymous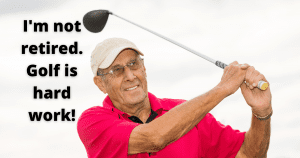 "The older you get, the stronger the wind gets; and it's always in your face." – Jack Nicklaus
"I am not feeling really well. I need a doctor immediately. Ring the nearest golf course." – Groucho Marx
Golf Practice Quotes
As a golfer, you know that practice makes perfect. But sometimes, it's hard to find the motivation to keep practicing. That's where these golf practice quotes come in! They're sure to inspire you to keep working on your game.
---
"No matter how good you get, you can always get better." – Tiger Woods
"The more I practice, the luckier I get." – Various Sources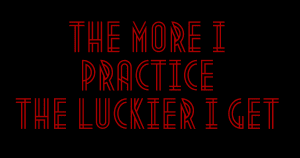 "Resolve never to quit, never to give up, no matter what the situation" – Jack Nicklaus
"Reverse every natural instinct and do the opposite of what you are inclined to do, and you will probably come very close to having a perfect golf swing." – Ben Hogan
"The real way to play golf is to take pleasure not in the score, but in the execution of strokes." – Bobby Jones
"If you watch a game, it's fun. If you play it, it's recreation. If you work at it, it's golf." – Bob Hope
"Correct one fault at a time. Concentrate on the one fault you want to overcome." – Sam Snead
Golf Mental Quotes
Do you ever get in a funk while playing golf? You're not alone. Even the best golfers in the world experience moments where they lose their focus. That's why it's essential to have some mental quotes to fall back on when things start to head south. Below are some of our favorite golf mental quotes from some of the greatest players in history. Read them when you need a little pick-me-up, and you'll be back on your game in no time!
---
"The more they made noise, the more calm I became." – Vijay Singh
"Golf is a game of inches. The most important are the six inches between your ears." – Arnold Palmer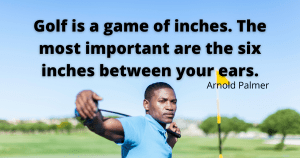 "Golf is a game in which attitude of mind counts for incomparably more than mightiness of muscle." – Arnold Haultain
"The most important shot in golf is the next one." – Ben Hogan
"For this game, you need, above all things, to be in a tranquil frame of mind." – Harry Vardon
"I always think under par. You have to believe in yourself." – Sergio Garcia
Golf Quotes about Friendship
What do Jack Nicklaus, Arnold Palmer, and Gary Player all have in common? Besides being legendary golfers, they're also all great friends. Golf is a notoriously competitive sport, but these three guys always enjoy each other's company on and off the green. They're known to give each other helpful tips from time to time. Here are some of their best quotes about friendship that will make you think about your relationships with your buddies on the golf course. Enjoy!
---
"I just love hanging out with good company on a great, fun golf course." – Rich Eisen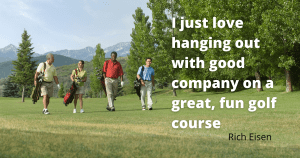 "I have found the game to be, in all factual-ness, a universal language wherever I traveled at home or abroad." – Ben Hogan
"If you think it's hard to meet new people, try picking up the wrong golf ball." – Jack Lemmon
"I play golf with friends sometimes. But there are never friendly games." – Ben Hogan
"There's no game like golf. You go out with three friends, play eighteen holes, and return with three enemies." – Anonymous
Conclusion
And there you have it – the top golf quotes of all time! Now that you've read this blog post use these quotes for Facebook, Twitter, and Instagram to spread the love of golf throughout your social media. Use #HowardsGolf so we can see what fun things you're saying about golf! If you liked this post, be sure to check out our Top golf-themed movie picks too. And don't let our site be the only place for these quotes. Bleacherreport has a great page also.
Happy golfing!