Golf is a sport that requires not only skill and precision but also the right equipment to help elevate your game. One such essential accessory for avid golfers is a high-quality travel bag to protect and transport clubs. Golf club travel bags ensure your clubs arrive safely and securely at your destination, allowing you to focus on your game and not on potential damage.
Sun Mountain Golf ClubGlider Meridian Club Cover Travel Bag is a top-tier option for golfers searching for a reliable and durable travel bag. Modern travel bags come in various materials, sizes, and designs with added features to improve functionality. When purchasing a golf travel bag, it's crucial to consider factors such as material quality, padding, ease of transportation, and storage capacity to ensure your clubs remain protected throughout your journey.
The Sun Mountain Golf ClubGlider Meridian Travel Bag stands out due to its unique leg mechanism, providing effortless maneuverability. This innovative design eases the burden on golfers, making it simpler and more convenient to transport clubs from one location to another. The ClubGlider also boasts ample storage space, well-padded interiors, and durable, rugged materials built to withstand the rigors of travel.
With so many golf travel bags available on the market, finding the one that best suits your needs and preferences is essential. By thoroughly examining factors like material, padding, storage capacity, and portability, you can confidently select the ideal travel bag for your golfing adventures. Our comprehensive comparison of various travel bags, including the Sun Mountain Golf ClubGlider Meridian Club Cover Travel Bag, will help make this decision easier.
Related: Sun Mountain Kube Travel Cover
The Sun Mountain Golf ClubGlider Meridian Travel Bags
Explore our carefully curated list of the best Sun Mountain Golf ClubGlider Meridian Club Cover Travel Bags available for you. These bags will provide superior protection and convenience to elevate your golf game experience.
The Sun Mountain Golf ClubGlider Meridian Club Cover Travel Bag is a premium option for avid golfers who seek convenience and protection for their clubs during travel.
Pros
Nearly effortless to pull when loaded
Dense foam padding for club protection
High-quality wheel system
Cons
Pricier than most other options
Limited to only two pockets
No specific luggage lock feature on the main zipper
The Sun Mountain Golf ClubGlider Meridian Travel Bag makes transporting your golf clubs a breeze. Thanks to its efficient wheel system, pulling a loaded bag becomes nearly effortless. You'll find yourself easily gliding through airports, leaving the struggle of maneuvering awkward travel bags behind you.
In terms of club protection, the dense foam padding throughout the top of the bag ensures your clubs stay safe and secure during your travels. This feature gives you peace of mind knowing that your valuable equipment is well-guarded, allowing you to focus on your game instead of worrying about potential damage to your clubs.
However, it's essential to note that this high-quality travel bag comes with a higher price tag than most other options on the market. But for those willing to invest in the convenience and protection the Sun Mountain Golf ClubGlider Meridian offers, the cost may be well worth it. Additionally, while only two pockets are available, they are designed for functionality and ease of use.
The only downside is the lack of a specific luggage lock feature on the main zipper. This may be concerning for those who want to ensure maximum security for their clubs. Nonetheless, the overall performance and quality of the Sun Mountain Golf ClubGlider Meridian Club Cover Travel Bag make it a top choice for golf enthusiasts.
In conclusion, if you're looking for a premium golf travel bag that offers both convenience and protection for your clubs, the Sun Mountain Golf ClubGlider Meridian is an excellent investment. Despite its higher price and minor shortcomings, its exceptional performance can vastly improve your travel experience.
Related: BagBoy T-750 Review
Color Variations
Black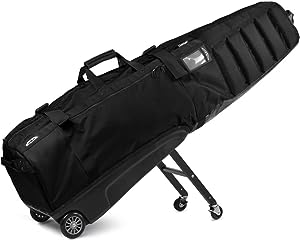 The classic Black option offers a sleek and timeless look when selecting a Sun Mountain Golf ClubGlider Meridian Club Cover Travel Bag. This color option ensures your bag looks professional and suits any style. It's the perfect choice for golfers who appreciate a sophisticated and understated appearance.
Black-White-Red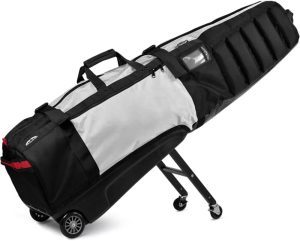 For a more vibrant option, consider the Black-White-Red color variation. This design features a bold red accent, adding a touch of excitement to your travel bag. The contrasting white elements brighten the overall design, making this color combination eye-catching and stylish.
Green-Black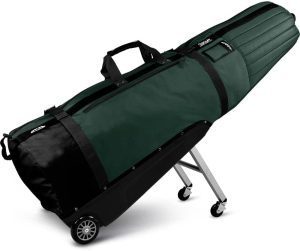 The Green-Black variation of the ClubGlider Meridian offers you a unique and refreshing look. Your bag will stand out on the course with the earthy green tones blending seamlessly with the black. This is a distinctive choice if you're searching for an elegant alternative to the traditional black or navy golf bag.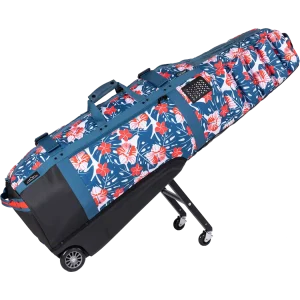 If you're looking for an adventurous, modern look, the Tropic Spurce color variation is perfect for you. The flower accents will undoubtedly catch people's attention, while the spruce blue provides a contemporary and stylish base.
Navy-Black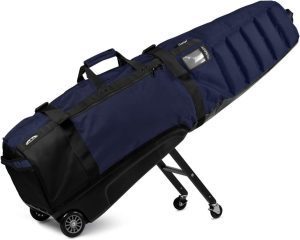 For a classic and refined appearance, consider choosing the Navy-Black color option. The deep navy paired with the black creates an air of elegance and sophistication that never goes out of style. This color variation is perfect for those wanting a traditional and polished golf travel bag.
Navy-Cobalt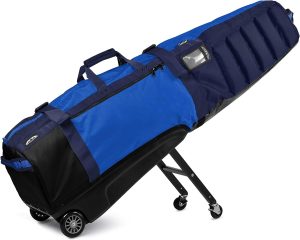 The Navy-Cobalt color variation combines two shades of blue, creating a stunningly eye-catching look. With its unique combination of deep navy and bright cobalt blue, this option allows you to express your personal style and adds a splash of color to your golf attire.
Red-Black
The Red-Black ClubGlider Meridian offers a bold departure from the traditional golf bag colors. The striking red accents against the black provide an energetic and modern appearance. If you love making a statement with your golf gear, this color option is excellent for enlivening your travel bag.
Buying Guide
When choosing a golf club travel bag, there are several factors to consider. In this buying guide, we'll discuss the important features to look for in a quality product.
Durability and Materials
Examine the materials used in the construction of the bag. High-quality materials such as heavy-duty nylon or polyester will provide better durability and protection from wear and tear. Reinforced stitching and strong zippers or fasteners are essential for long-lasting use.
Padding and Club Protection
An essential feature to consider is the level of padding and club protection. Look for bags with ample padding around the club heads and shafts, as this will help protect them from damage during transportation. Bags with full-length dividers also provide better organization and protection for individual clubs.
Wheels and Mobility
For added convenience and ease of transportation, consider a bag with built-in wheels. Smooth-rolling inline skate wheels or sturdy spinner wheels will allow for effortless movement through airports or other travel venues. Some travel bags also offer retractable handles for easier navigation.
Size and Weight
Consider the size and weight of the bag, keeping in mind any airline baggage restrictions. Lightweight bags are easier to carry and maneuver, while larger bags may offer more space for your belongings.
Remember to strike a balance between size and features as spacious bags with lots of pockets and compartments might be heavier, even when empty.
Lastly, take your time comparing different products within your budget and considering these features will help you make an informed decision on the best golf club travel bag to meet your needs.
Frequently Asked Questions
What are the differences between ClubGlider Meridian and Journey?
The primary differences between the ClubGlider Meridian and Journey are their size, weight, and capacity. The Meridian is larger, offering more storage space for your golf gear, and is designed for longer trips and larger golf bags. The Journey is smaller and intended for shorter trips and more compact golf bags. Both models feature Sun Mountain's patented ClubGlider technology for easy maneuverability.
How does the ClubGlider Meridian compare to other Sun Mountain travel bags?
The ClubGlider Meridian provides more storage space than the ClubGlider Journey, making it a suitable choice for extended trips or golfers with larger bags. Additionally, the ClubGlider Meridian has reinforced padded dividers, which offer extra protection for your clubs, and top-of-the-line materials for durability and performance.
What makes the ClubGlider Meridian stand out among golf travel bags?
The unique selling point of the ClubGlider Meridian is its patented leg mechanism and pivoting caster wheels. This innovative design allows for effortless transportation and takes the weight off your shoulders. Combined with top-quality materials, your clubs stay protected during travel, ensuring a hassle-free experience.
How do you properly pack golf clubs in a ClubGlider Meridian?
To pack your golf clubs in a ClubGlider Meridian, first, remove any loose items and valuables. Then, arrange your clubs with their heads down, alternating between shorter and longer clubs. Consider adding shaft protectors or wrapping them in towels to protect the shafts. Secure the clubs with the bag's internal straps so they don't move around during transportation.
Is the Sun Mountain ClubGlider Meridian suitable for air travel?
Yes, the Sun Mountain ClubGlider Meridian is designed to handle the rigors of air travel. Its durable construction, padded dividers, and reinforced wear areas ensure that your clubs remain protected throughout your journey.
How does the ClubGlider Meridian's durability compare to other golf travel bags?
The ClubGlider Meridian is built with high-quality materials, including heavy-duty zippers, reinforced wear areas, and dense padding. These features provide superior durability compared to other golf travel bags, making it a worthwhile investment for golfers who travel frequently.
What are the dimensions of the Sun Mountain ClubGlider Meridian?
When fully packed, the Sun Mountain ClubGlider Meridian measures 52″ H x 14″ W x 14″ D. This size comfortably accommodates most golf bags and extra gear without exceeding airline size restrictions.
Does a Bag Boy Backbone help protect my clubs while traveling?
A Bag Boy Backbone can provide additional protection for your clubs while traveling with the ClubGlider Meridian. The Backbone is an adjustable support rod that fits inside your golf bag, creating a protective shield over your clubs. It offers an added layer of security, minimizing the risk of damage from mishandling during transportation.