There's nothing worse than playing a round of golf and having your clubface covered in dirt, grass, and other debris. Not only does it make working the ball more difficult, but it can also damage your clubs over time. In this post, we're going to show you how to clean golf clubs using a simple and easy golf club cleaner process. Keep reading for all the details!
Keep Your Golf Clubs Clean
Without good cleaning habits, the divot debris on your golf club heads will decrease the spin rates of the golf ball. Therefore, regardless of whether you're a beginner or scratch golfer, you should develop a golf club cleaner routine!
You can invest in golf club cleaner kits or adopt the do-it-yourself approach with common household equipment. Either way, we are going to go through the best way to care your golf clubs for super clean results and keep your sticks with that brand new showroom look.
Materials Needed to Clean Your Golf Clubs:
A Bucket – This can be an optional tool depending on your preference. It offers a place to do the dirty work. However, if you have a designated washing sink for this purpose, you can skip this tool.
Dish Soap – A washing detergent is essential to removing stubborn stains from your club. I recommend liquid soap – it makes the wiping process easy. However, avoid using heavy detergent or bleaching agents as they can affect the texture and color of your equipment.
Scour Pad – An appropriate sponge should do the trick. A soft one lets you hold enough water as you wipe your golf clubs without wasting too much soap in the process.
Brush – A brush allows you to clean the grooves of your face effectively. You can purchase one designated for this task such as the Frogger BrushPro Golf Brush with a 2.5ft retractable cord and offers two brush heads, 1 made with nylon and phosphorous bronze and the other is 100% nylon. It also has a golf club groove sharpener if they start to lose their edge. Alternatively, you could improvise using one of your old toothbrushes. However, in so doing, I recommend one with soft bristles.
Polish – Depending on the design of your golf club, you will need either a metal (chrome or steel polish) or wood polish. It adds a nice finishing touch to your golf clubs, ready for your next playing time.
Golf Towel – Any old towel can do the trick. However, you can get a designated microfiber golf towel. Or, this Titleist Players Microgiber Golf Towel is a good candidate for this task. It's 16×32 inches gives plenty of space for cleaning your club set.
Water – this is the most basic of all cleaning components. Lukewarm water is recommended for the best results. Too hot of water and you run the risk of softening the ferrules to where they might slip on the shaft. Too cold of water… Well, I'm not a chemist, so check out this Clean Club Science 101!
If you want to go completely spartan, you only need a dish soap brush and water to clean your golf clubs. Don't forget your towel, so you don't have to remove rust from golf clubs later.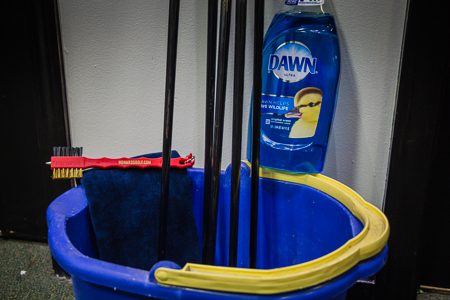 Instructions on How to Clean Golf Clubs
Great. You've got the items needed. Now it's time to make your clubs shine!
How to Clean Your Golf Woods & Irons
Assuming you're using modern technology, and your golf club set – woods & irons – made with metal, (Titanium, carbon steel, 17-4 steel, i.e.) the process is relatively the same.
Just be careful with the paint finish on the crown of the driver, fairway, and hybrid heads, along with the paint on the sole.
Related: TaylorMade Stealth Plus Driver Review
Wire brushes, for instance, can leave some nasty surface scratches in the paint that can become annoying to look at when addressing the ball.
Here's the process we recommend on how to clean golf clubs:
Preparation - 

Squirt a proportionate amount of liquid soap into the lukewarm water and mix properly. In this step, you should ensure that the mixture covers only the heads – you do not want to risk causing ferrule movement. For the woods & hybrids, avoid prolonged submerging in water. While I've personally never had water seep into the hollow body of the head, it is apparently an issue.
If you have old persimmon woods don't submerge the heads at all. We're not covering care for vintage golf clubs here so the following link will take you to the best source available – Louisville Golf Club Care and Maintenance of Vintage Golf Clubs
Dip the head into the mixture - 

Allow a couple of minutes to pass for the warm water to loosen the dirt and the chemicals that have accumulated over time.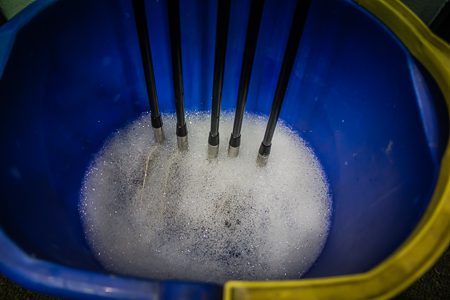 The Head -

Now use your soft-bristled brush to scrub each of the faces while giving some TLC all-round that show excess dirt.
Start with the face scrubbing from the hosel to the toe, back and forth until satisfied. You can go back and forth, or circular motions. Whatever your preference.
Next, with vertical up-down scrubs do the same scrubbing from sole to topline. For cavity back irons check the backside for any dirt that may be hiding in the cavity. You might have to get creative while cleaning these parts out.
For woods and hybrids don't neglect areas such as channels or weights that show. These areas can be a breeding ground for debris.
Last, grab your golf tee and run it through the grooves, if your brush doesn't have a groove cleaner built-in and remove any problem spots still stuck.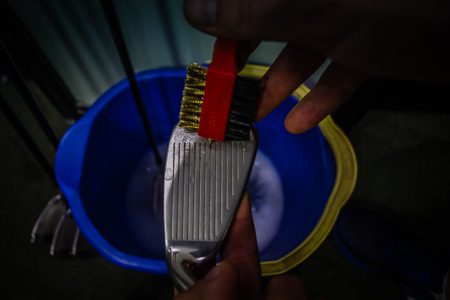 Cleaning your golf clubs should be a thorough process. But be careful with the crowns and soles of woods and hybrids with paint as you do not want to cause surface scratches. Personally, I prefer to buff dirty spots out in painted areas with a microfiber towel.
Rinse with Water

Once done, run the golf club head over tap water to rinse it off. This process involves also inspecting for any leftover dirt – if that is the case, repeat the previous step until you have a clean club head.
Dry & Polish

This is the final step before storing your golf clubs back in the bag. Use your designated towel to remove any residual water or moisture from the heads. For a finishing touch, show off your OCD traits and apply a polish to the metal with chrome or appropriate polish.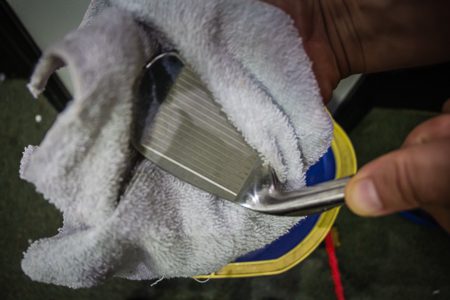 How to Clean Your Shafts and Grips
When it comes to keeping your golf clubs in good shape, you should never neglect the shaft and grip. These parts are just as important for performance and longevity reasons!
The Shaft
The two most common shaft material includes steel and graphite. The former is more common than the latter in iron sets, and graphite is the shaft of choice for woods. The care process also differs slightly but applies the same concept:
Prepare Mixture

With your liquid soap already mixed with water, wet your scour pad with it.
Wipe Gently with Sponge

Gently wipe the steel shaft taking care not to make a mess and splash the water all over the place. In the case of graphite shafts, avoid solvents to protect the delicate polyurethane encasing. A dampened cloth is appropriate in this case.
Remove Rusts

Sometimes; simple wiping is not enough if your steel shaft is showing signs of rust. In this case, you can use a little vinegar and a 000 or 0000 steel wool. Any steel wool rougher than this can possibly scratch the shaft.
Dry & Wax

Once you have washed the shaft, wipe it dry. For the graphite models, I recommend waxing as a polishing finishing touch. Car wax can also do the trick to bring back a nice shine.
It is also during this stage that you should inspect both shaft materials for deformities such as dents in steel or knicks in graphite. If they exist, you might want to consider replacing the shaft.
The Grip
Your grips can easily be neglected causing dry, hard slippery pieces of rubber. The accumulated sweat, dirt, hand lotions, and even chocolate can, over time, reduce the traction of your hands during play.
You have a couple of choices here.
One being to purchase the ProPlay Club Grip Cleaning Wipes, or…
DIY to the rescue and to get a grip tacky. And here is the process: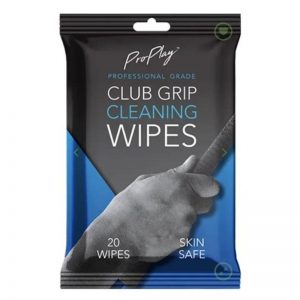 Prepare Mixture Clean Soap

Mix liquid soap and water (that simple!). Stir to create soap suds.
Run Under Water

It is recommended to run the grips under running water first before applying soap.
Then, apply your sponge to the mixture and use it to start washing the grips using gentle scrubbing motions.
Rinse

Run through warm water to complete the process. Avoid hot water to protect the glue that holds the grips to the shaft.
Dry and maintain

Use your towel to dry off the rinsed surface. Do the same for excess water running down the shaft.
At this point, you can determine if your grips are still in good shape or worn out. If it is a case of the latter, you need to either sand it or replace it.
Maintaining the Grip
If you want to maintain quality grips, then you need to adopt a vital follow-up routine:
Inspection

Being the most neglected part of the club components, many never notice, or deal with the cracks or worn out parts of the grips until it is too late. Avoid this by doing a routine check once you are done scrubbing and rinsing it.
Clean Frequently

It is recommended to do this at least once per month. The tools required for this process are very few and easy to improvise.
Know Your Grip & How to Maintain It

Wash conventional rubber grips with a soft bristle brush and hand soap. If you find this to be too tedious, window cleaners like Windex and Glass Plus can offer quick and effective ways to maintain a clean grip.
Sand or Replace Grips

If after cleaning your grips through the above method it is still hard to use coarse sandpaper to take off the top layer. If that does not work out, it is time for a new one. Check out this golf grip tape post for starters.
Golf Club Cleaner Final Thoughts
Knowing how to clean golf clubs is an essential part of the game. It's important to clean your clubs regularly and know how to maintain them. In this article, we've outlined the process for cleaning your golf clubs, from preparing the mixture to drying and waxing the shaft. We've also provided tips for maintaining your grips so you can get possibly get an extra season or two out of them. Golfers of all levels can benefit from following these simple steps to keeping their clubs clean and in good condition.