Golf is a game that requires precision and the right tools to help you achieve your best performance. A rangefinder is an essential accessory for every golfer aiming to improve their game. A rangefinder is a device that measures the distance between you and your target, which is especially useful when determining club selections and estimating shot distances. Today we'll be looking at the Callaway 300 Pro Rangefinder.
The Callaway 300 Pro Rangefinder is a valuable addition to your golf gear, as it not only provides accurate distance measurements but also accounts for elevation changes on the course. With its slope technology, this rangefinder calculates angles and elevation adjustments to give you more precise club selection guidance.
When choosing a rangefinder, consider its accuracy, ease of use, and additional features such as slope calculation and the ability to lock onto the flagstick. The Callaway 300 Pro Rangefinder meets these criteria, with its ability to measure distances up to 1,000 yards and 6x magnification for clear visuals. Its Pin Acquisition Technology (P.A.T.) allows you to lock onto the flagstick with ease, taking your game to greater heights.
With the Callaway 300 Pro Rangefinder by your side, you can make confident club selections and better estimate shot distances, resulting in a more enjoyable and successful time on the course. We'll dive into its specific features and benefits to demonstrate why it's a top choice for golfers seeking a reliable and accurate rangefinder.
Callaway 300 Pro Rangefinder Specs:
Upgrade your golf game with our top picks of Callaway 300 Pro Rangefinders. You'll find accurate distances and slopes, tailored to fit your needs on the course. Check out the list below to discover the best options that will enhance your gameplay and lower your scores.
Elevate your golf game with the Callaway 300 Pro Rangefinder, featuring accurate slope measurements and advanced features for improved performance.
Pros
Highly accurate slope measurement
6x magnification with a range of 5-1000 yards
Pin-locking technology and pulse confirmation
Cons
Slightly bulky design
Not suitable for those with shaky hands
Requires a CR2 battery, which is not common
The Callaway 300 Pro Slope Laser Golf Rangefinder is designed to help golfers make more informed decisions while on the course. Its precise slope measurement calculates the angle of incline and decline, providing you with adjusted distances for more accurate shots.
With 6x magnification, you'll be able to see your targets clearly, whether they are 5 or 1000 yards away. The rangefinder also offers a pin-locking technology, allowing you to lock onto a pin up to 300 yards away and receive a vibrating pulse confirmation when the correct distance has been achieved.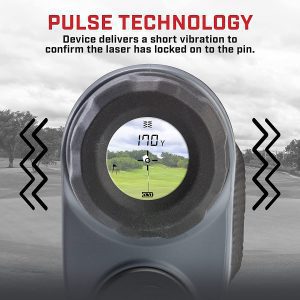 As impressive as the Callaway 300 Pro's features may be, the device does have some drawbacks. Its slightly bulky design can make it challenging to hold steady for those with shaky hands. Additionally, the rangefinder requires a CR2 battery, which may not be readily available at your local store.
Despite these minor challenges, the Callaway 300 Pro Slope Laser Golf Rangefinder is an excellent choice for novice and experienced golfers. Its advanced features and accurate measurements will help you improve your shot decisions and, ultimately, your overall game.
Buying Guide
Determine Your Needs
First, think about your skill level and the distances you typically play. Consider how often you play and the importance of accuracy in your game. This will help you determine what features you need in a rangefinder.
Range and Accuracy
When choosing the best rangefinder, pay close attention to the maximum range and accuracy. Look for a rangefinder with a range that exceeds the longest hole you'll encounter. The accuracy should be within 1 yard, as higher precision will significantly improve your game.
Related: Foresight GCHawk Monitor
Slope Measurement
Some rangefinders offer slope measurements, which adjust for elevation changes between you and the target. If you play on hilly courses, this feature can be very helpful. However, keep in mind that slope measurements may not be allowed in tournament play, so check the tournament rules before using this feature.
Ease of Use and Display
Opt for a rangefinder with an intuitive design and clear display. You should be able to easily lock onto your target and read the distance measurement. Look for a device that offers a clear and bright display, with easy-to-read numbers and symbols.
| Feature | Importance |
| --- | --- |
| Range | Vital |
| Accuracy | Vital |
| Slope | Optional, but useful |
| Display | Crucial |
Battery Life and Durability
Lastly, consider battery life and durability. A rangefinder with a long-lasting battery will ensure you're never left without it during a round. Additionally, look for a device with a sturdy, weather-resistant design to protect it from the elements and potential drops.
Now that you know what to look for, go ahead and choose the rangefinder that best suits your needs and enjoy more accurate shots on the golf course.
Conclusion
In your search for the perfect golf rangefinder, you should consider the Callaway 300 Pro Slope Laser Golf Rangefinder. This device offers accurate yardage readings with slope adjustment, which can greatly enhance your golf game. The compact, water-resistant design ensures durability and makes it easy to carry around the course.
Additionally, the range and accuracy of this device is impressive, going up to 1,000 yards with 1-yard accuracy. The Pin Acquisition Technology (P.A.T) enables quick and efficient target-locking, setting it apart from other rangefinders.
Some features that you may appreciate include:
6x magnification and adjustable focus
Legal for tournament use when the slope mode is disabled
CR2 battery included
Carrying case and clip attachment
In conclusion, the Callaway 300 Pro Rangefinder offers various advantages that will likely improve your confidence and performance on the golf course. With its user-friendly design, helpful slope adjustment feature, and impressive range, this device is worth considering for your next game.
FAQs
How does the Callaway 300 Pro Slope Laser Golf Rangefinder work?
The Callaway 300 Pro Slope Laser Golf Rangefinder uses laser technology to accurately measure distances on the golf course. It can measure distances up to 1000 yards with 6x magnification. The device features Slope mode that calculates the slope-adjusted distance, providing you with a more accurate number to plan your shots.
Is the Slope mode legal for tournament play?
Yes, the Callaway 300 Pro Rangefinder has a feature to disable the Slope mode for tournaments. By toggling off the Slope mode, your rangefinder becomes fully legal for tournament play, adhering to USGA rules.
How do I use the 'P.A.T.' feature?
P.A.T. (Pin Acquisition Technology) lets you quickly lock onto the flagstick. To use this feature:
Look through the eyepiece and point the rangefinder at the flagstick.
Press and hold the power button until the circle appears.
Move the circle over the flagstick and release the power button to lock onto the pin.
Is the Callaway 300 Pro Rangefinder water-resistant?
Yes, the Callaway 300 Pro is designed to withstand light rain and splashes, but it's not fully waterproof. Avoid submerging the device in water, and make sure to dry it off if it gets wet during play.
What is included with the purchase of the Callaway 300 Pro?
When you purchase the Callaway 300 Pro, you'll receive:
The Callaway 300 Pro Slope Laser Golf Rangefinder
Premium molded hard carry case
CR2 3V lithium battery
Cleaning cloth
Quick-start guide
Lanyard to attach to your golf bag